Remember Songza? Probably not. From Wikipedia:
Songza was a free music streaming and recommendation service for Internet users in the United States and Canada.

Stating that its playlists are made by music experts, the service would recommend its users on various playlists based on time of day and mood or activity.[1][2] Songza offered playlists for activities such as waking up, working out, commuting, concentrating, unwinding, entertaining, and sleeping.[3] Users would vote songs up or down, and the service will adapt to the user's personal music preferences.[3] Users would find playlists not just based on artists, songs, or genres, but also based on themes, interests, and eras, such as "90s One-Hit Wonders", or "Music of Fashion Week".[4]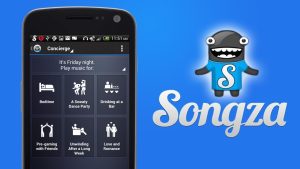 It was hands-down the best music app for the Palm Pre. Remember the Pre? Probably not.
Anyway, like most good things on the Internet, Songza was killed by Google. First the human-curated goodness was folded into aseptic AI of Google Play Music in 2016. That was replaced by Youtube Music in 2020.
On my Pre, I had a list of songs I had given the "thumbs up" in Songza. That got migrated over to GPM and I added to it as best as I could. When Google announced the service's imminent demise I signed up for Spotify and painstakingly recreated the list. This is mainly for work and driving and I have added on to it over the years I've been using spotify. Almost all of the songs on this list are catchy and upbeat; most are good for maintaining a positive mood. There's a preponderance of 2000's indie rock, but you will finds stuff from various genres and decades.
I'm mostly posting this so you can be in awe of my impeccable taste in music.