I was shopping in Safeway this week when I realized nobody was wearing masks, not even me! I wore a mask when shopping longer than most, but even after I quit I would see some folks in the 65+ set being cautious. It hit me, I don't think I had given any thought to covid for over a week! Part of this is helped by the fact that I'm on disability and no longer practicing medicine. I'm usually only thinking about my own problems, or those of my family members.
As I was wandering through the grocery aisles, breathing in that sweet produce mist, I wondered if the pandemic was actually over. It seemed that most news sources spoke of it in the past tense. I need data!
I hadn't pulled up the New York Times tracker for many months. It was last updated March 23. So I pulled up my county's tracker. It was shut down and gave me a link to a state page. It was shut down and gave me a link to another state page!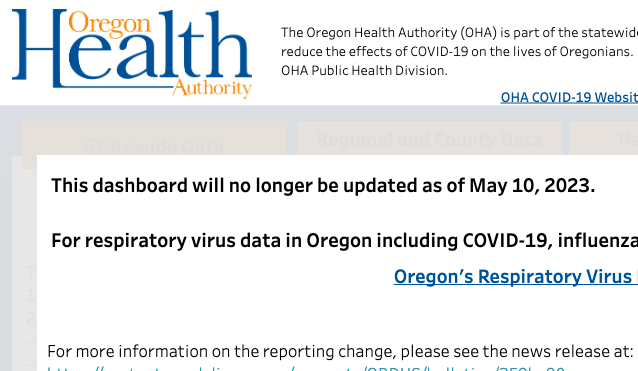 The last time the deaths page for Oregon was updated was May 27! Emergency department visits are still being tracked. Last week 1.3% of visits were for covid-like-illness. It looks this is probably the floor for this statistic. I assume plenty of visits for respiratory illness would be counted as covid-like.
They are also still tracking covid hospitalizations, which I think should be a reliable metric.
That certainly looks like a nice slide off from the winter. Get your next covid and flu boosters, coming up in September, y'all.
(Kudos to my wife, who has never had a known symptomatic covid infection, despite everyone she knows and lives with getting one!).