Not really something that rocks, but Las Vegas casinos are confusing. A couple of years ago, Hard Rock ( owned by the Seminole Tribe) sold the hotel part of Hard Rock Las Vegas to Virgin and the casino part to the Mohegan Tribe. Now Hard Rock International has bought the Mirage on the Strip and will be rebranding it as a Hard Rock resort.
The MGM Grand, in 1986, built a new location and sold the old one to Bally's, a pinball and slot machine company.
In 2004, Binion's, based downtown, sold its chain of Horseshoe casinos to Harrah's (now Caesars) but kept the downtown location, renaming it from Binion's Horseshoe to Binion's Gambling Hall.
Now Caesars just announced they are renaming Bally's on the strip to the Horseshoe, if this wasn't confusing enough.
But wait, there's more. The Bally Corporation, which just bought the Tropicana, now has an opening to tear down the Tropicana and build a new Bally's, actually owned by Bally.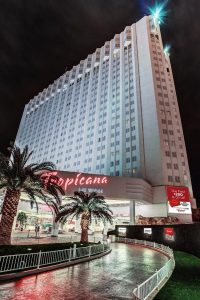 I hope this has been instructional and mostly accurate.